Bullets know no gender, say officers of
Madhya Pradesh
police, having shot five suspected
women Maoists
since 2012, three of them in the last six weeks.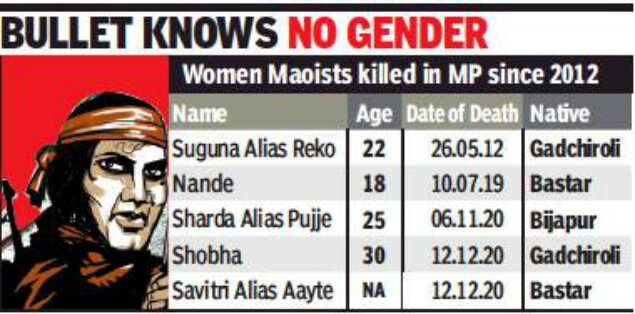 Maoists Shobha and Savitri were gunned down in an
encounter
in Balaghat on December 12 and Sharda was shot dead on November 6 this year. MP Police have killed seven
Maoists
in the last eight years, with women making up 70% of the body count.
Three women were natives of Chhattisgarh and two of Maharashtra. Six more women Maoists were killed in neighboring Chhattisgarh, Maharashtra, Odisha, Telangana and Andhra Pradesh in just one week.
The Maoist's Central Military Commission (CMC) recently said that 839 women cadres have been killed in the past two decades.
Asked about the high ratio of women deaths among Maoists, IG -Balaghat Range K P Venkateshwar Rao said: "Gender is no factor here. They are simply insurgents for us. In any case, you cannot wait to identify gender during a gunbattle. Moreover, women are actively participating in murders and IED attacks on police and armed forces. The two we killed last week were involved in more than 20 criminal cases."
Intelligence officials and researchers on LWE say that Maoists still don't train women in leadership roles and simply use them as shields. They believe the government and police should use this information to create awareness and deter women from joining the Maoist ranks.
Some police officers also say their build often works against them during encounters. "They can't run as fast as men. This may be just one of the reasons. In the jungle, you have to be very quick to run and hide, or else you are dead," said an IPS officer requesting anonymity.
On International Women's Day this year, Maoists had for the first time released a list of 22 women cadres killed in encounters as propaganda on "women contribution to the cause".
"The forces can use similar psychosocial propaganda to deter women from joining the rebels. During tactical counter-offensive campaigns, Maoist leaders mislead women cadres, saying troops do not fire on them so they will remain safe. They must understand that there is no such sympathy for insurgents," says Varnika Sharma, a Chhattisgarh-based military psychologist and defence expert.
The home ministry believes more than 60% of lower ranks in Maoists and 50% of PLGA are women. They are kept in front, leaving them exposed to the first contact with security forces.
"Using women in the outer circle (pehla ghera) started after 2010. In some of the cases, children are used.," says Dr Sharma.
MP police have intensified operations in Balaghat and areas bordering Chhattisgarh. "We have put all our locations on alert. Six more companies of CRPF are being deployed to add to six already in place," said G P Singh, ADG (naxal operations).
https://m.timesofindia.com/city/bhopal/madhya-pradesh-used-as-shields-women-maoists-fall-to-bullets/amp_articleshow/79807940.cms