Siva G | TNN

|

Updated: Dec 23, 2020, 08:14 IST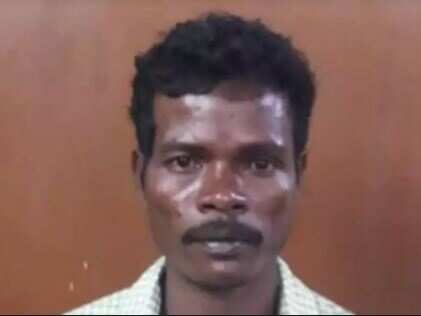 Vantala Kameswara Rao
VISAKHAPATNAM: Visakhapatnam rural police on Tuesday arrested CPI Maoist militia commander Vantala Kameswara Rao alias Kamesh of Rasarai village of Killamkota panchayat in G Madugula mandal of
Visakhapatnam Agency
area. He has been sent to judicial remand.
Kamesh was allegedly involved in 27 cases, including taking part in
murders
. He worked as a militia member and was later promoted as militia commander. He has been holding the post for almost six years at Killamkota pocket of Pedabayalu area committee of the banned CPI Maoist party.
According to police, Kamesh was involved in four murder cases. He would forcibly gather people at what are known as '
praja courts
' or people's courts and charge his victims with informing police about the movement of naxals. He would also organize 'famine attacks' where naxals would storm grocers and forcibly distribute the food grain among the villagers.
His victims included dual murder of Pangi Prasad and Pangi Srikanth at
Kotagunnalu village
in 2013 and the murder of Sindri Karla at Rallagadda village in
Chintapalli mandal
in 2014. He was involved in the murder of Bachali Balakrishna at Killamkota of G Madugula mandal in 2014 and also in the murder of Vantala Satya Rao at Madatakonda village in Chintapalli mandal in 2015.
Kamesh was involved in three cases of burning or damaging the machinery placed for road laying works including at Lakshmipuram in Munchingput mandal, Kudumsari of Chintapalli mandal and
Nurmathi of G Madugula
mandal