Soumitra Bose | TNN

|

Mar 8, 2021, 04:06 IST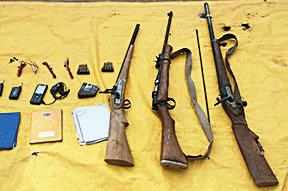 Arms seized by the C-60 commandos from the factory in Abhujmadh, Chhattisgarh
Nagpur: The elite C-60 commandos of Gadchiroli police during the latest operation to bust a Naxal arms factory at Abhujmadh in Chhattisgarh silently allowed the armed guerrillas to rain bullets on them just to save their injured colleague who is now recuperating in a city hospital.
Later, the commandos started pushing the Naxals back after a reinforcing assault group arrived to help the trapped force from another side.
After the successful operation of destroying a Naxal camp and arms factory on March 4, the cops were hastily scaling down the slopes into the reds' bastion when they were surrounded and ambushed. The situation aggravated when one of the jawans suffered a bullet injury in the heavy counterfire by the Naxals.
It's learnt that the C-60 commandos, with their injured colleague, had got trapped in the forested hillock while returning with Naxals surrounding them. The commandos held their ground with grit for more than one-and-half hours till the reinforcement assault group attacked the Naxals from another side. "If the Commandos would have fired then the Naxals would have come to know their position as well as their numbers. The Naxals would have immediately changed tactics and attacked and we would have found it difficult to move around with an injured jawan whose life would have been jeopardized,' said an officer.
"The commandos remained motionless behind some trees or shrubs to avoid getting hit by bullets," he said.
It's learnt that the C-60 commandos were surrounded by Naxals' heavily-armed and trained companies number four and 10, which operated in Maharashtra's Gadchiroli and Gondia and Company number 5 which is from Chhattisgarh. Several dalams from the south too were present. "We have found out that the Naxals had assembled for their Tactical counter offensive campaign (TCOC) meeting when C-60 commandos stormed their bastion," said DIG, Naxal range, Sandip Patil.
"The visit of the DGP (Hemant Nagrale) last week had boosted the morale of the forces which had resulted in this action," he said.
https://m.timesofindia.com/city/nagpur/commandos-braved-naxal-fire-silently-to-save-injured-colleague/amp_articleshow/81381624.cms