TNN

|

Mar 10, 2021, 04:58 IST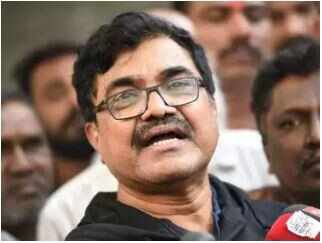 Anand Teltumbde
Mumbai: The National Investigation Agency (NIA), while opposing a bail plea by Elgar Parishad accused Anand Teltumbde, has claimed that he was in touch with wanted accused Milind Teltumbde and had secret meetings with him.
The two Teltumbdes are brothers. The NIA said Anand had inspired Milind to join and expand the Maoist movement. The bail plea is scheduled for hearing on March 11.
The NIA in its reply said Anand used to attend international conferences and used "foreign Maoist literature" for training purposes after obtaining the approval of the Central Committee of the CPI (Maoist) to expand the movement.
It said witnesses' statements revealed that Milind alias Deepak was expanding the Naxal movement of Maoists in urban areas with the help of his "real elder brother Anand Teltumbde" at the international level.
Anand had given a lecture at a programme in memory of a senior CPI (Maoist) member too, said the NIA.
Anand is a professor at the Goa Institute of Management, said the NIA. Milind is alleged to be a secretary of the MP-Chhattisgarh unit of the banned CPI (Maoist). The NIA said: "Milind in his urban area visits during January to June every year to Nagpur, Pune, Chandrapur, Bhopal, Indore, Katni, Amarkantak, Mandala, Dindori, Shahdol etc used to meet his brother Anand Teltumbde for taking guidance to advance the movement of CPI (Maoist)."
It said Anand, to further the Maoist agenda, used to attend international conferences "under the guise of his academic visits at Canada, Pakistan, USA, France etc. and … exchange literature on ideology, training and working strategy of CPI (Maoist) with international communist organisations".
The NIA said Anand was in touch with the co-accused.
The NIA said a letter from a person named "Prakash to Anand is recovered from the electronic data of [co-accused] Rona Wilson" regarding a Paris convention. It mentioned Anand's visit to Paris for a human rights convention on April 9 and April 10, 2018, and "lectures on Dalit issue in order to give traction to domestic chaos". The NIA reply said that during this period the "domestic chaos related to Dalit issue was only the Koregaon Bhima incident". In one letter, the NIA said there was approval of Rs 10 lakh yearly for "international seminars and lectures on Dalit issues".
Anand, who surrendered in April following refusal of relief by the SC, said he had not met his brother for 25 years and his bail plea alleged that the NIA was making a "desperate attempt" to corroborate the case against him. Denying the charges and case against him, his bail plea said there was no evidence of Maoist links against him
https://m.timesofindia.com/city/mumbai/mumbai-anand-teltumbde-secretly-met-maoist-brother-nia/amp_articleshow/81420806.cms