Srinath Vudali | TNN

|

Updated: Jun 26, 2021, 09:30 IST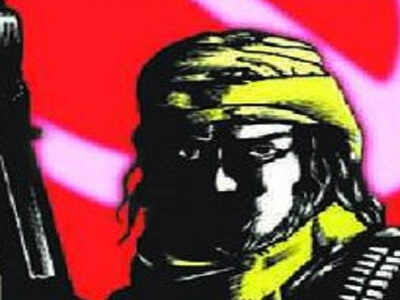 Representative Image
HYDERABAD: Telangana police claim that a manhunt has been launched by the outlawed Communist Party of India (Maoist) to trace some of their own lower rung cadre who allegedly escaped from the forest area in Chhattisgarh fearing that they might contract coronavirus.
"Though it's been more than a year since the spread of coronavirus, CPI Maoists recently appealed to their cadre to use masks, sanitisers, maintain social distancing and avoid meeting villagers and hold mass gatherings in tribal areas of Chhattisgarh,'' top sources in Telangana told TOI.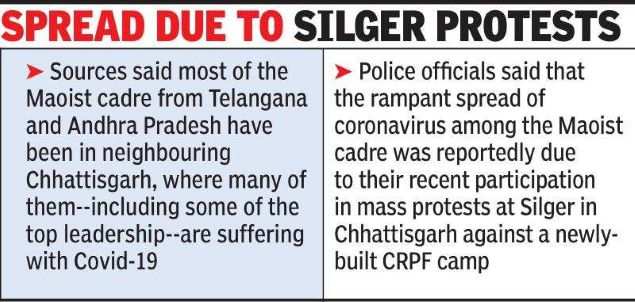 Sources said most of the Maoist cadre from Telangana and Andhra Pradesh have been in neighbouring Chhattisgarh, where many of them, including some of the top leadership, are suffering with Covid-19. Telangana police have been on their toes hoping that Maoist cadre and its key leaders in distress might secretly come to Telangana for treatment.
Police officials said that the rampant spread of coronavirus among the Maoist cadre was reportedly due to their recent participation in mass protests at Silger in Chhattisgarh against a newly-built CRPF camp.
They are now getting allopathy medicines into the forest for their cadres through their couriers, instead of their earlier experiments with quacks and their own team of doctors. Police also suspect that some doctors, who are sympathisers of Maoists and living in nearby towns, might be guiding them through their couriers.
So far, the CPI Maoist leadership was in denial about the spread of coronavirus among its cadre, but on Thursday, they admitted that Telangana Maoist State Committee secretary, Haribushan, and Indravathi area committee member Sarakka alias Bharatakka, had Covid-19 symptoms at the time of their death a few days ago.
Police accuse CPI Maoists leadership of denying their cadre medical treatment. "Some 12 lower rung cadre fled from the forest fearing Covid-19. We know the leadership is searching for the missing men," a police officer said
https://m.timesofindia.com/city/hyderabad/fearing-covid-12-maoists-escape-from-chgarh-forests/amp_articleshow/83860397.cms