TNN

|

Jun 1, 2021, 04:34 IST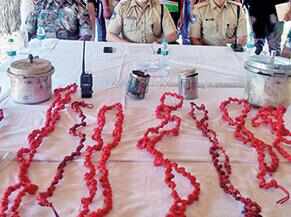 The seized explosives
Hyderabad: An alleged
Maoist
dalam member was arrested and police recovered four improvised explosive devices (IEDs) from his possession in Pamunuru forest area in Mulugu district on Sunday.
Acting on inputs about Maoist militia from Tadapala, Chelimela, Jella and Pamunuru villages assembling in Pamunuru forest to plant IEDs to target police and paramilitary personnel involved in combing operations, Mulugu police along with bomb disposal team and CRPF proceeded to the spot on Sunday morning and located the militia members.
On seeing police, the militia members, who were planting IEDs, tried to escape, Mulugu superintendent of police (SP) Sangramsingh Patil said. "Our team managed to nab one of them. We have also seized IEDs and explosive material from the spot," the SP added.
The accused was shifted to Venkatapuram police station at 4 pm. After interrogation, police identified him as Madavi Boodu, 40, a tribal from Jella village of Venkatapuram Mandal. Boodu along with militia members of Tadapala, Chelimela, Jella and Pamunuru villages of Venkatapuram mandal and Pedda Utlapally, Chinna Utllapally, Ramapuram, Beemaram, Kasthuripadu and Pujarikanker villages of Chhattisgarh had participated in several unlawful activities during the past few years. "Boodu is involved in 28 cases under UAPA Act," the SP said.
https://m.timesofindia.com/city/hyderabad/maoist-held-four-ieds-seized/amp_articleshow/83129053.cms