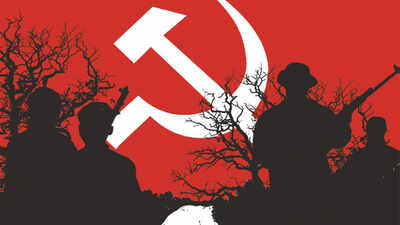 Representative image
RAIPUR: At least 15 villages of insurgency-hit Dantewada district of Bastar division will be declared 'Naxal-free' on August 15. It is for the first time that villages falling under restive region of Red Zone have become 'green zones' — totally free from all kinds of Naxal activities or frontal organisations.
An extensive survey was done across Dantewada to mark zones of 'Red'- worst Maoist affected, 'Orange'- less affected and 'Green'- not affected. This Independence Day, these 15 villages will celebrate 'Freedom from
Naxalites
', said Dantewada SP Abhishek
Pallava
.
He said that 'Lon Varattu' surrender campaign (return to home) has encouraged over 400
Maoists
to join mainstream in past two years and it has played a crucial role in eradicating
Maoism
from various patches of Dantewada district.


"Based on the ten parameters of assessment related to number of Maoist attacks, their visits to villages, number of meetings, presence of frontal organisations like Bal Sangham, Chetna Natya Manch etc, if cops in uniform could visit the villages and on similar factors, police teams had started to survey 149 gram panchayats of the district in January. It is for the first time that such an intensive survey took place and reassessment was done multiple times following which it was found that 15 gram panchayat have converted from orange to green zones with no Maoist activity," Pallava told TOI.
The process of final screening is to be done before declaring 15 gram panchayats as 'free from Maoist' zone.
Pallava said that police had earlier prepared a list with names of Maoists expected to surrender under Lon Varratu campaign and the 15 villages identified as 'Naxal-free' are among the ones that have recorded maximum number of surrenders. There's no pending name to be surrendered from the 15 villages.
"The effect of detailed survey is such that the panchayats are approaching police to inform their villages were now 'green zones'. Of the 149 gram panchayat initially surveyed, 74 were found to be green, 42 orange and 33 red zones. When 42 gram panchayats underwent fresh surveys, 15 were found to be absolutely free from 'Red' activities," the SP said.
With the declaration, the district administration will start an active intervention in these villages to proactively work towards promoting developmental activities in these regions.
Dantewada collector Dipak Soni told TOI, "Right from public distribution system, hospitals, schools, aaganwadi centres, water and electricity to roads and infrastructural development, we would be able to penetrate freely without risk in these identified villages. People having access to such facilities have to cover distance of several kilometres to grab them but now, we will announce a special development package for their villages, to be available at the door-step."
The villages that will be declared Moist-free are: Hitameta and Hidpal in Barsoor, Bade Surokhi, Bade Tamnar in Geedam, Dhurli, Masenar, Gamawada, Bade Kameli in Bhansi,
Chandenar, Phulnar
, Kuper, Kanwalnar, Dumam in Dantewada, Gadhmiri in Kuakonda and Keshapur in Faraspal