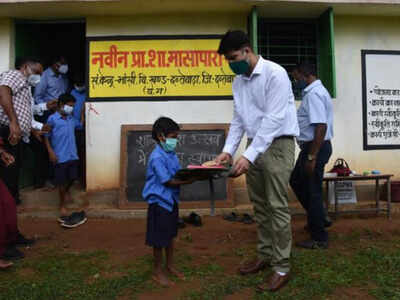 At least 27 students attended the classes on Monday at the re-constructed school, bringing it back to life. Dantewada collector Dipak Soni took the first class for them
RAIPUR: Six years after the
Maoists
had razed down a school building in insurgency-hit
Dantewada
district, it was well re-constructed and painted back into life by the surrendered cadres and the school beamed when 27 students attended classes on its premises on Monday.
TOI had earlier highlighted how the school at
Bhansi
,
Masapara
was demolished twice in 2008 and 2015 by the Maoists and after their surrender, the guilt-ridden cadres decided to rebuild it brick by brick.
At least 27 students attended the classes on Monday at the re-constructed school, bringing it back to life and Dantewada collector Dipak Soni took the first class for them. It was a moment of joy and excitement for all.
Expressing his happiness with TOI, Dantewada collector Dipak Soni said, "We restarted the school after a gap of six years which was once demolished by Maoists. The important point is those who demolished, have themselves rebuilt it after surrendering and joining the mainstream. Maoists demolished the school in 2015 and the same cadres who surrendered in July 2020, were asked about their livelihood activity they would want to choose. They said with conviction that they want to reconstruct the same school and earn livelihood out of the labour work.
"The district administration then sanctioned the construction work which was done within months. "On August 2, the classes were conducted in the same school for the first time after its reconstruction. And the good side is that the same former cadres are now engaged in construction work of an
Aanganwadi
centre and a stretch of road that connects to school," the collector said. The students were garlanded as a welcome to school by the former Maoists as they held their hands and walked them inside the classes, it would remain in their memories. The school has a capacity of accommodating 70 students.
The primary school is located at a forest patch in Masapara, about ten kilometers from Dantewada. Though the rebels had reduced it to rubble, the villagers always hoped that such buildings would reshape again. A former Maoist Santu Kunjam who spoke to TOI earlier, had said that realizing the significance of education, it became like a dream to rebuild the school and literate children would turn youths and would require jobs