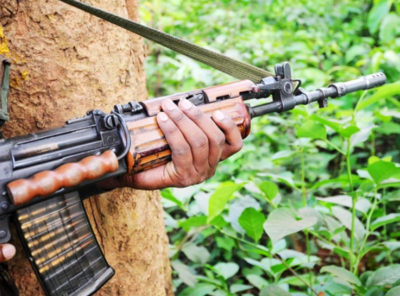 Picture used for representational purpose only
PATNA: The security personnel have foiled the Maoist plot to blow up Jamalpur station and a railway tunnel and also kidnap Railway Protection Force (RPF) men deployed to guard the tunnel in shifts.
The plan was to be executed by August 3 midnight, which was the last day of Martyrs' week observed by the CPI(Maoists) in Bihar and other left wing extremism affected states.
Nandan Mandal, an alleged overground worker of Maoists, had made a phone call to his brother-in-law in Ghogha, Bhagalpur, on August 3 night and told him at least four times during their conversation that Maoists would blow up the Bhagalpur railway station. Knowing that his call was being intercepted, Nandan mentioned Bhagalpur station just to divert the attention of security personnel and agencies from Jamalpur railway station and a tunnel nearby in Munger, their main targets, Munger ASP (operation) Raj Kumar Raj on Friday told TOI over phone.


He said the Maoists had planned to to come down from the hills to blow up the Jamalpur station and the tunnel and kidnap the RPF men guarding it.
"The Bihar police Special Task Force had intercepted Nandan's call to his brother-in-law. He was traced very soon in Munger and detained for interrogation during which he revealed the Maoist plot, which was foiled," the ASP said.
"It might have become a major issue had they succeeded. The Maoists had planned to demand ransom of several crores of rupees from the government to release the RPF men, if kidnapped. They had conducted recce and come to know that two men guard the tunnel at a time in different shifts," he said.
He said during interrogation, Nandan confessed to have ringed thrice Maoist area commander Bahadur Kora, who lives in the Kharagpur hills with armed cadres. "Bahadur would have come down from the hills with armed men to execute the plot. However, Nandan could not get connected to Bahadur and they could not reach on time. Till then security personnel traced Nandan near Amjhar hills in Munger and detained him for interrogation," he said.
Bariyarpur police station SHO Amrendra Kumar said Nandan was arrested on Thursday. A pistol, two live cartridges and Maoist letter pads were recovered on his confession from the jungles.
"An FIR against Nandan, Vijay Rajak, Bahadur alias Nakul and other unknown Maoists has been registered with Bariyarpur police station for hatching a conspiracy to blow up Jamalpur railway station, a tunnel and kidnap RPF men guarding it," the SHO said.
The SHO said Vijay has already been arrested in another case in Munger in June. He said Vijay and Nandan used to meet Bahadur frequently and supply him food and other logistics. "Nandan was promised good rewards had the plan succeeded," he said.
Meanwhile, the ASP said the conspiracy was hatched in a meeting at Vijay's house in Bariyarpur a few months back. "Vijay is also a Maoist OGW. Nandan was his right hand. There were at least four more men who had attended the meeting," he added