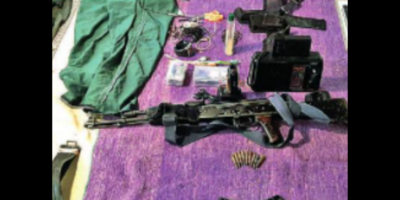 BHUBANESWAR: Maoist, who have recently surrendered in the state, are being engaged by Odisha police in carrying out anti-Naxal operations in different districts. The ploy has paid off with the arrest of some top cadres and zero casualty among the security forces so far this year.
Altogether 11
Maoists
, including some top cadres have surrendered, 25 others have been arrested and three
Naxals
were gunned down by the security personnel in Odisha between January and August this year.
"At least six of the surrendered Maoists accompanied our forces to the inaccessible areas in jungles and were part of some anti-Maoists operations in Koraput and Malkangiri districts in the last three to four months. With their assistance, we have arrested at least 10 Maoists and seized huge cache of arms and ammunition in separate raids," a senior police officer told TOI.


The surrendered Maoists helped the police to locate the camps and hideouts of the Naxals. "They are helping us to identify the Maoists as we do not have their photos. Besides, the surrendered Maoists have helped us learn a lot about the internal conflicts in the Maoist organisation, their movements, plans and financial sources," the police officer said.
It must be noted the state government's surrender and rehabilitation policy for the Maoists has led to a significant drop in left-wing extremism (
LWE
) in Odisha. Police statistics said 31, 26, 27, 13 and 21 Maoists surrendered in the state in 2016, 2017, 2018, 2019 and 2020, respectively. Most of the surrenders were reported in worst-hit Koraput and Malkangiri districts.
Under the revised security related expenditure (SRE) grant of the Centre, financial benefit for a surrendered higher cadre Maoist (category 1) was hiked to Rs 5 lakh from earlier Rs 2.5 lakh. Monetary benefit for a lower cadre Maoist (category 2-B) was increased from Rs 1.5 lakh to Rs 2.5 lakh. The benefit for a middle cadre Maoist (category 2-A) has remained unchanged at Rs 2.5 lakh.
The state committee members, regional committee members,
central committee
members and
politburo
members are treated as category-1. The middle ranked LWE cadres (category 2-A) include area commanders, sub-zonal commanders and zonal commanders. Any other hardcore cadres, Dalam members and identified LWE cadres involved in heinous crimes come under category 2-B.
The government recently increased the stipend for vocational training of the surrendered Naxals. While each surrendered Maoist used to receive Rs 4,000 per month for three years earlier, the revised stipend now stands at Rs 6,000 per month for three years.
The policy's state grant has remained unchanged. Under the state grant, an eligible surrendered Maoist would get Rs 25,000 towards a homestead land, Rs 45,000 house building assistance, Rs 25,000 for marriage if he or she is unmarried and Rs 3,000 education allowance annually for three years
https://m.timesofindia.com/city/bhubaneswar/once-rebels-they-now-help-odisha-police-track-down-maoists/amp_articleshow/85030737.cms