Soumitra Bose | TNN

|

Mar 7, 2021, 05:52 IST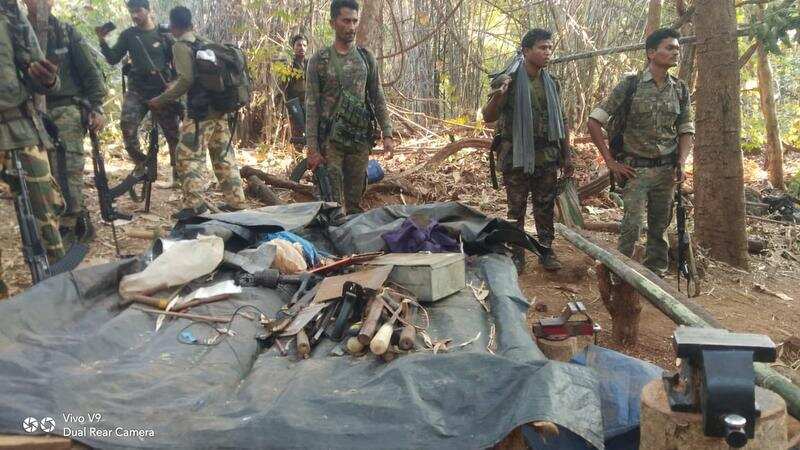 Nagpur: The arms manufacturing unit of the Naxals in the hilly terrain of the densely-forested Abhujmadh in Chhattisgarh, busted by the C-60 commandos on March 4, was in the process of preparing a grenade launcher which could have been a major threat to the security forces.
Naxals' politburo member Bhupathi alias Sonu too was present in the vicinity where the firing took place. Sources in the police department said the Naxals had continued to fire heavily, aiming at the C-60 commandos to shield their senior member.
Meanwhile, the injured C-60 jawan, who was brought from Gadchiroli to Orange City Hospital and Research Institute with a bullet wound, is said to be stable after reaching the city on Friday night. He got a surprise call from chief minister Uddhav Thackeray who waited for more than 24 hours to have a word with the injured C-60 commando. Thackeray, who lauded the efforts of the commandos, assured them of support from the government.
The arms factory, located around five kilometres away from the Maharashtra border inside Chhattisgarh, had several machines and tools which helped the Naxals' expert teams to shape crude grenade launchers and other ammunition meant to be used in it.
DIG, Naxal range, Sandip Patil, who had supervised the 48-hour operation along with SP Ankit Goyal, said the Naxal literature had helped the police to know their strategy of manufacturing artillery to fight security forces. It was underlined once again by the latest discovery and seizure from the arms factory. "The Naxals may not be able to manufacture sophisticated weapons and ammunition but they were certainly in the process of preparing some local version of the under-barrel grenade launcher (UBGL)," he said.
Patil, who had provided food for the injured jawan from his residence, said the Naxals had least expected the C-60 commandos to reach the interiors of their territory
https://m.timesofindia.com/city/nagpur/naxals-were-trying-to-manufacture-grenade-launcher/amp_articleshow/81369716.cms